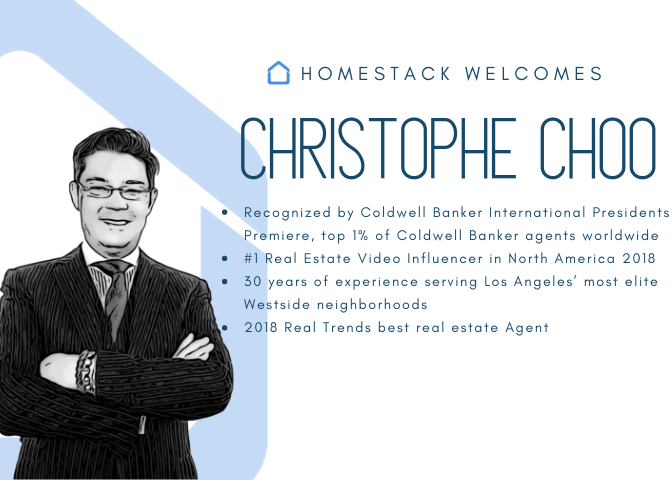 Chances are if you're in the real estate industry or have bought or sold in the Los Angeles market; you know the name, Christophe Choo. He graces our social media feeds every day with entertaining and relevant content – dressed to impress with a big smile on his face. His clients love him, and his co-workers admire him. Who wouldn't with awards like #1 2018 Real Estate Video Influencer in North America or Real Trends 2018 Best Real Estate Agent? His production speaks for itself, placing him at "top producer" status in the elite Coldwell Banker Previews® International Presidents Premiere, which honors the top 1% of Coldwell Banker agents worldwide — consistently ranked in the Top 100 at Coldwell Banker Global Luxury!
Valued as much for his success as for his luxury market expertise, Christophe has been a regular cast member on the popular HGTV's Real Estate show Selling LA. He's appeared on several national television shows, including Bravo's Million Dollar Listing, Beautiful Homes & Great Estates, Luxury Lifestyles TV, Open House TV on NBC, Behind the Gates and The T.O. Show on VH1. He has also been touted internationally as a "real estate social media rock star," logging in over 51,000 hits a month on his Web site and over 7,300,000 views on his YouTube channels & videos with over 23,000 YouTube subscribers.
Impressed yet? Well, we certainly are, and we were thrilled to sit down with him and pick his brain on his real estate agent tools and what he thought of his custom real estate app powered by HomeStack.
"HomeStack? You need to do it. Simplicity, ease of use and instant gratification is what this app delivers. Hats off to you for delivering this technology.. One of the great things about Homestack is that it is cutting edge. Our world is changing. We have to be early adopters to this technology, our clients expect it."
Check out the full interview below!
Interview Transcript:
Eric Ebacher: Hello everybody, we're very excited to have you here today. We pride ourselves at HomeStack on bringing you the best information in technology. We have our Co-Founder and CEO Will Grewal here with us today, and we have a special guest as well that we're very excited to have.
Will Grewal: This is the man, the myth, the legend, three decades in real estate, top 1% globally, the number 1 broker in North America and not to mention, the best dressed.
Christophe Choo: Oh, I love that.
Eric Ebacher: Thank you so much for joining us.
Christophe Choo: Well thank you, I'm really honored to be here with you and Will, and this is going to be really cool.
Eric Ebacher: So, Christophe, you've started at 18 years old, 30 years in the business, tell us how you did that, obviously we know that Christophe now and today in 2019, it hasn't always been that I'm assuming so how did that begin, a little bit more of that story of how the Christophe began.
Christophe Choo: Actually it's funny because when I speak at different conferences, people have perceptions of who you are. They see you in one second, how you dress, how you look and they make an instant half second decision, oh this one is this one way or that way. Particularly coming from Beverly Hills, they might think oh, that's that bougie flashy Beverly Hills guy, right? Which you have me look bougie and flashy, but I am a real down home kind of farm boy kind of mentality.
For those of you who don't know, I started my real estate career at 18. I was a fashion model starting at 16 and my wife now of 26 years, we were dating at the time and I was gone 3 – 4 – 5 months at a time traveling around the world modeling. And when you're modeling especially when you're young, you're shooting all day long, you're in night clubs all night long and you're way out of the country, and you're with all these pretty girls and my wife, girlfriend at the time, did not like that. So she suggested how about getting a different job? And I said: what do you have in mind? I was 18, young and dumb, right? And she says: how about real estate? So I literally thought at 18 years old, oh, I can drive a fancy car, I could be my own boss, I can show pretty houses and make a lot of money. I had no idea, and this is pre-internet days, this is like '87 – '88, right? The Internet didn't exist.
Christophe Choo: So I thought that's my perception of real estate. I didn't know there was such a thing as escrows and titles and inspections and negotiations; I had no clue. And so actually that summer, I was in Santa Fe, and I was laying on the beach at private club studying my thick real estate principles courses to take the exam. Came back to L.A., took the exam, I passed right away, and I was living in Los Feliz. I interviewed with a local Los Feliz office and the manager, I remember her name was Elizabeth Clock, I remembered so well. She said: what do you want to do? I said: I want to make a million dollars a year and drive a Rolls-Royce. She thought I was nuts, really, she thought I was nuts, so she didn't hire me. She said: I don't think you're the right fit for the office, which I'm really glad everything happens for a reason. I went to the next office, closest next which was in Hancock Park. British manager by the name of Joe Love, she hired me and I started working there. A year and a half into the business, I've done one sale, it was a 43,000 dollar co-opt and I made 1,358 dollars, I remember it very well. And the manager said to me you're not really doing so well, you're not making any deals, you got 90 days or you're kicked out of the office. So I'm like oh shoot…
Eric Ebacher: THE Christophe Choo?
Christophe Choo: Yah, I've done my sale.
Eric Ebacher: I didn't know, that's great…
Christophe Choo: Well yeah, most people don't, but it's the truth. And so I thought what am I going to do? Because I was doing two open houses a week, I was sitting at the up desk or floor desk where you sit there and get the incoming calls, but nothing was happening. And look, I was 18 years old and no one my age was buying or selling real estate, right? They were still in college.
So I went to a conference where they taught me how to prospect expires and for sale by owners and I started getting on the phone, calling for sale by owners and I started building my business. I went from $1,300 to $35,000 to $75,000 – $150,000, we kept doubling my business every year, but that's kind of how it all started.
Eric Ebacher: So as one of the most successful realtors in the luxury market, what would be your three tips to somebody trying to break into that market?
Christophe Choo: Wow, what a good question, oh, to break into the luxury market? First, you have to live it, breathe it and be it in order to attract it. Wealthy people, I mean, luxury is different in every segment, you could be in Arizona, luxury is $700,000, you could be in Temecula, luxury is $500,000, Beverly Hills, luxury starts at $5 million so everything is relative to where you're living and working so you have to first of all figure that part out. But you have to live in the world, breathe in the world, be part of that world in order to attract that because rich people want to work with people that are like them. If they see you at the party, if they see you at the market, if they see you at the art show, at their friends' homes, when they're thinking about selling their $700,000 dollar house, $2 million dollar house, $20 million dollar house depending on your market, if they see you in that world like oh, he's friends with our friends, oh, our friends are the kind of buyers who would buy our expensive home. So you have to be part of that world, so you have to spend money to make money and it's costly and it's like rolling the dice in Vegas on roulette.
Eric Ebacher: It's like a high stakes game.
Christophe Choo: It's high stakes, luxury real estate is high stakes gambling, it really is. And I'm not a gambler. I don't ever gamble in Vegas. Maybe a couple of hundred bucks in the slot machine or roulette just for the fun of it but I'm not a gambler. So it's a lot of hard work. I'm up every day at 5:30 – 6:00 a.m. I do affirmations every day. I do what we call the 10 – 10 – 10 from Tom Ferry which is I release the 10 things I'm worried about, fearful about or nervous about or upset about, I release that first thing. It's a visual, virtual, verbal affirmation. I release that then I talk about the 10 things I'm grateful for. Every day no matter what's going on, you could have your worst day, I'm alive, I have water, a roof over my head, I have a bed, I have heat, I'm very blessed, so I'm always grateful for everything I have. And then I talk about the 10 things I expect and anticipate for the day. I want to be happy, I want to be productive, I want to make a difference, I expect miracles. It's just a way to frame your day. Work hard, frame your day, keep moving forward because every day, I don't know about you, but my life is like I get in the morning at 5 o'clock in the morning or 5:30 or 6:00 and I'm like I can start the day, and then you check your text, your emails like oh shoot, there's a problem.
Eric Ebacher: In real estate?
Christophe Choo: Oh yeah, I can't. And you can also have okay, I have a better mindset, I release all the energy, get rid of the negativity and then I'm like okay, what's my day? Focus and it's just up and down. Problems happen, but then two minutes later, you have a call with a new client, he's going to buy a 2 million dollar house. I can't bring my problems to them, I need to solve their problems. I'm here to fix their world. I'm going to make them happy and create their lifestyle. They don't care about what's going on with me. And I've said this in conferences, your mom could die, your dad could die, your dog, I know it's negative but 5 minutes later, you have an appointment, you don't talk about that stuff, you're here to solve their problems. So client centric world meaning my clients are my world, I focus on that because I wouldn't have my life or my lifestyle without my clients. But I have to be ready mentally, emotionally, physically to take care of them despite the ups and downs of the day.
Eric Ebacher: If you were to take luxury market outside of it, with those be the same tips you can give to somebody that's just starting out?
Christophe Choo: Yes. It doesn't really change. The difference in the luxury market is people are more pampered, more taken care of, expect more, demand more, you're their life concierge, you're there to handle everything for them. I mean, I have had clients say to me: I expect to be pampered, they tell you that.
Eric Ebacher: They really say that?
Christophe Choo: Absolutely. I already know that…
Will Grewal: Let's stay on the topic of the luxury market. A colleague of yours, Joyce Rey
Christophe Choo: Yes, I love Joyce, an icon in the business.
Will Grewal: Icon in the business. I saw at the Inman Connect conference in New York City and she had a funny joke and it went: you want to be the first son, the second wife and the third listing agent when it comes to real estate. Now, is this true? Do you really want to be a listing agent later on? Is there a benefit of being a second or third listing agent?
Christophe Choo: Joyce is absolutely on spot. Joyce is an icon in our industry. She knows what she's talking about and look, this is 30 years in the business that we've talked about. Every 7 – 10 years it goes up, every 7 – 10 years it goes down, so we're in a new phase in the industry. Not only is the market changing, not dramatically but it is changing worldwide and nationwide, but also the industry is changing dramatically. Like technology like what you guys are doing, I mean, the world is so fast today, and some are, our lives are on the phone. Everyone lives on their phone, not even the computers or the iPad, on the phone. So Joyce is absolutely correct, in this market as well as other, in a super hot market, maybe being the first agent is more productive but today, I turn down a lot of listings because the sellers' expectations are not in alignment with what the reality is and they're not quite ready to buy in to that reality so I'm totally happy and I'll tell them, you know what? If that's really your price and what you want, please go ahead and list with someone else, they'd give you a lower commission and higher price, but if it doesn't sell, I don't want to say negative, in the next 6 months, I'll be here for you. And I had a deal in the last down market, really good friends of ours for 4 ½ years with houses on the market with 5 of the top brokers in Beverly Hills and they're friends and every time they'll be in the market, we talk, we'd have lunch and they said to me: oh, well you don't sell homes in this price range but I did, but they didn't have that perception. Finally, 4 ½ years later, I took the listing, I sold it in 2 weeks to my own buyer (Lady Gaga's business manager), I double end of the deal and it was a 6 ½ million dollar deal and I was the fifth broker. So I do agree absolutely with Joyce, I mean, she knows what she's talking about and it's hard to walk away from a listing, it really is. But in today's world, if I know it's worth 6 million and they want 7, it's fine, I'm okay with that because I'll be here, every time it expires, I will call them that morning at 7 AM, hey, it's me again. How are you? Ready to sell?
Will Grewal: Well that's a good point. And you mentioned technology kind of in the space.
Christophe Choo: Yes.
Will Grewal: And technology is this buzzy word where everyone's like oh no, real estate is going away, technology is going to take it over. Here at HomeStack, we don't think the real estate agents are going to go away. In fact, we believe technology is going to leverage it. So real estate agents aren't going to go away, but real estate agents that use technology will beat those that don't use technology, what are your thoughts on that?
Christophe Choo: Well, I agree 100%. I truly believe real estate agents will never go away, especially in the high-end markets. Clients really hire you for your expertise, your guidance, your insight. When I do this for 30 years or Joyce for 40 years, I mean, we know the market down cold, we know the best neighborhoods. When a client calls us and says: we want to buy, we want to sell, we truly understand the dynamics of all the differentials meaning you want to buy short term, long term, home, vacation home, what is the difference? But technology is part of today's world and as I said earlier, 30 years ago, there was no internet. When I started, there was no internet, we had MLS books, computers just started but today, technology is changing the world so quickly. We have to adapt and be the forerunners of that which is why I signed up for your apps because that's the reality.
Now some people will not use an app, some people will not want to use a computer, but day to day in a luxury market, in particular, they want to talk to you, they want to see you, they want to communicate with you. I mean, buying a house, selling a house – is the most important decision anyone ever makes usually or one of the most important in our lives, so we have to be there to guide them. And technology is an amazing tool in our arsenal to help clients to find properties, to get information, to help them see the marketplace but bottom line is the world is about people, we're all human beings, we all have emotions, and we have to tie in to that, we have to understand that and help people in a very exciting, challenging and emotional decision which is buying and selling.
Eric Ebacher: Now we're friends, we've been at lunch countless times, it's all great but when we initially met, when I met you a year and a half ago or so…
Christophe Choo: Yah, about two years ago.
Eric Ebacher: You told me you had your own app built. Like most agents, I have my own app, they think of like maybe a Homesnap or CRMLS or something of that format where you have a profile inside an app. You actually had your own true app built.
Christophe Choo: Yeah.
Eric Ebacher: You remember much of those details?
Christophe Choo: First of all, yours (HomeStack) is a real mobile app, it's not whatever you just said, I don't even know much about Homesnap, but that's an online website that the app is connected to.
Eric Ebacher: … we actually built you 'Christophe Choo' in the app store.
Christophe Choo: Yeah and we have 5 or 6 or 7, I don't know, but it's a real app. And so I was, I believe one of the first agents if not the first agent to have an app probably 12 – 13 years ago and I think someone approached me and I thought it was a great concept. Just before the iPhones came up that we had BlackBerries in the day. Is it BlackBerries or flip, I don't know, but I'm like this is cool. So I bought the app and I had it built. Technology is always changing and I'm sure you guys are always changing what you're doing too, but it's so important to be not just on the cutting edge but an advance of those things that's why when I met you two years ago, I'm like: oh apps? Scrap the old one, let's start with a new one which we did, we did it for many different locations and the main one is my Christophe Choo app which is the main one I use, but the locational apps but they're also my main app. But today, 80% of consumers function and live on the phone. For me, I have computers but 90% of my day, it's on the phone and we have to recognize that that's the reality of today's world for consumers.
Eric Ebacher: You get this better than probably the most realtors out there but it's in the sense of many realtors are scared of technology, like you need to adapt to technology, right? And team going forward. In the process of obviously what happened in the past, is the past with whatever company it was, but with HomeStack, let's talk about your experience. Because the price point was affordable and we promised great things, what was the process like once it was delivered, what did you feel like HomeStack and the on boarding of not just myself with the company but our company as a whole?
Christophe Choo: HomeStack is great and the backend, you buy something, you pay money for an app and the backend has to be good and it is. But agents have to, and whether you have a team or you have ten people that work for you and you don't want to know about this stuff, they need to know about it. Somebody has to know about it because you have to educate your clients. But like even my app, you know the auto text on the phones? So my app is an auto text, it's AP. So whenever I'm with a client and we're conversing and quite often in today's world, we have clients we do major deals on WhatsApp, WeChat, Kakao or text.
Will Grewal: Oh, you're global.
Christophe Choo: Yeah. But how many deals do I, and I really don't like doing deals on text because to me, it's just I pick up the phone, I call them like hey, we got to talk or we got to go in a video chat but 80% of the transaction is done via those types of formats. So it's like clients like to call me, we meet, we're talking about real estate, I email them, oh by the way, here's my app, I do AP and just pulls out the app on the text, sends it to them, I see because I get the backend, I get the email, oh, your client signed up for the app and then he tells me when they see properties. So you never know what's going to work, but you've got to have everything in your arsenal that's why the apps are so valuable because I know most of my clients are using them and they like it.
Eric Ebacher: We did a Facebook Live, my actual Facebook Live ever but when we did that Facebook Live video…
Christophe Choo: We did a Facebook Live?
Eric Ebacher: Yeah, it was six months or less. The first time when we launched it, you got maybe 60 – 70 downloads in a day.
Christophe Choo: That's right, that's right, we did do that.
Eric Ebacher: Obviously, you have a big following; a lot of people want to know what you're doing.
Christophe Choo: Right.
Eric Ebacher: What was the reaction of your clients when they downloaded the app?
Christophe Choo: They love it, it's good. But if anything, the app is really simple and easy to navigate. I mean, some apps are just like you don't know what to do but yours is pretty simple, you can zoom in on the maps, open the maps and I have a really good client that bought and sold 4 or 5 homes and looks for new house in Malibu so they're on the app and they setup the automatic things that, sometimes, they will text me and say: oh, I saw this on the app, they'll get a popup and they'll tell me about it before I even know about it, if I'm too busy during the day, but it's great. If you have, we have 7 but if you get 2 or 3 extra deals in a year from the app, heck, it's worth it, right?
Eric Ebacher: HomeStackian's keep coming back for some great content here at HomeStack.
END
Stay tuned for more interviews with more market leaders who have invested in a custom real estate app powered by HomeStack.
Posted by HomeStack on August 12, 2019