What does it take to build a huge following on social media, create a consistent inbound business, and sell over $55 million in 12 months? Shannon Gillette, one of Arizona's leading real estate professionals recently revealed to HomeStack her growth strategies for using cutting edge tech like her custom real estate app built by HomeStack, combine with a video first marketing approach has her team to the top 15 in the Phoenix East Valley market.
Our CEO Will Grewal talked with Shannon about her 2023 real estate predictions, leveraging tech to level up any real estate agents business and how building their own real estate app has helped her team to nurture prospects into clients for life. 
"Our real estate team is always ahead of the trends. Our clients expect us to have the best social media marketing and real estate agent tools. That is why we created our real estate app with HomeStack. We are a huge fans of our app and it has helped us sell more homes."
Real Estate Agents: Ask Yourself "Where am I sending my prospects to search for a home?"
With a massive social media following, Shannon knows that the average American spends more that 2 house per day on their phone, "In this day and age, everyone's home search starts on their phones. If you send prospects to Zillow or others apps you risk losing them to another realtor. Our real estate team educates clients that "Zillow is in the business of selling a product, and it's not houses, it's you!" Wouldn't you rather have prospects going to your own real estate app and you be their resource to get information on homes, instead of them going to your competitors?"
Shannon explains, that a HomeStack real estate app, provides so many benefits to a real estate agent by saving us time and providing our clients with an incredible search experience. "All real estate agents get texts from client's with a screenshot from Zillow saying "Hey, I want to see this home." and we have to break it to them "Sorry that home sold 3 months ago". Even more importantly, having a branded real estate app keeps you top-of-mind. Every time a person looks at their phone, which is all day, they see you and think real estate…you don't have to worry about them searching on other platforms where they could easily click "schedule a showing" with another real estate agent and you have lost that client."
Real Estate Tech will Give Realtor's a Competitive Edge in 2023
Shannon advises real estate agent's to embrace the latest real estate tech in the coming year to grow a team or gain business. "All real estate agents need to embrace technology…we are excited about the shifting market because buyers have more options and less competitive offers. Providing apps for real estate agents powered by HomeStack gives the Gillette Group clients and real estate agents an edge with the most up-to-the-date property info. I have a client right now who took the time to compare our App with the other big-name real estate mobile apps, and she said hands down, our custom real estate app is providing much better availability and search – it was her app of choice and not just because it is ours."
Access to Client Data Allows Us to Accelerate the Process from Discovery to Close
The Agent Insights feature provides the client data Shannon and her team rely on to speed up the process from discovery yo close. "In our team real estate app, we can see what properties our clients are liking and favoriting for tailored follow up. They can also schedule a showing, and me and my real estate team can communicate with them right in the mobile app. We also love the custom push notifications that allows people to view new property alerts right on their phone or see when we are hosting community event. There are so many benefits,  I honestly couldn't understand why a real estate agent wouldn't embrace this technology and provide a real estate app for their clients."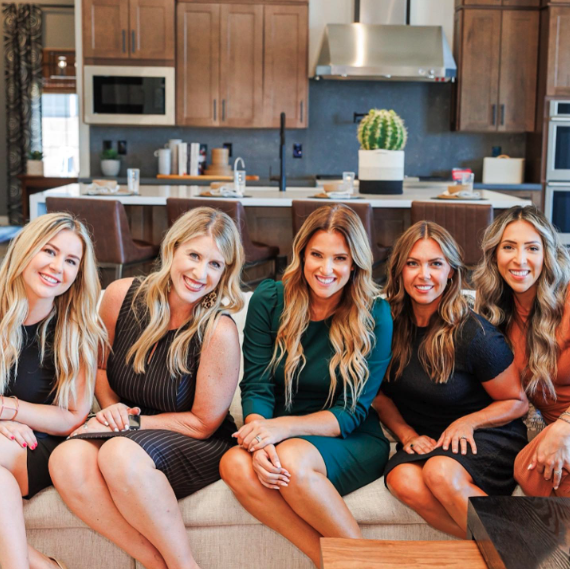 "Having a custom real estate app built by HomeStack has been a complete game-changer for us. We now offer something that our competitors don't. If you are going to sell extra homes because you have this app and your clients are going to have a better experience, share it on their social media and with their family and friends, it is a no brainer for me and our whole team has embraced it. It is an all-around great tool for us and our clients – definitely worth the investment."
"We want the real estate community to take it to the next level and any agent who gets their own branded real estate app with HomeStack and incorporates it into their business will level up and will sell more homes with it."
---
Make sure to follow along with Shannon on Instagram @shannon_gillette and her team. Learn more about building a white-label app for your real estate team or brokerage. 
Posted by HomeStack on January 30, 2023