Time and time again we get asked the question from real estate agents, why do I need an app if I already have a website? As a company in the real estate tech space, we can think of about 100 reasons why you'd want an app in general! But to save you some time, let's narrow it down to five.
#1 Custom Branding
You're going to see a lot of "umbrella solutions" out there that provide you their app and you are able to have a profile within it. (Would you like to have a profile on Zillow or BE Zillow?) HomeStack is one of the very few app companies that gives you the option to name it whatever you want, depending on availability in the App Store.
We have clients that name their apps names like "Newport Beach Homes" or "LA Luxury Properties". Or they simply brand themselves and/or their brokerage. Point being, it's all about you.
Your app icon is custom as well. Represent your brand to the fullest and put it on all of your marketing pieces. Here in sunny Southern California, we are pretty attached to the names of the communities we live in. When we see that the city we live in has a real estate app, we're all over it. Unlike the umbrella solutions, your clients can find your app simply by going to the app store and typing in the name. Just like you'd find Facebook or Uber. Cool right?! Having an app in the app store means that you're now a business partner of Apple and Google.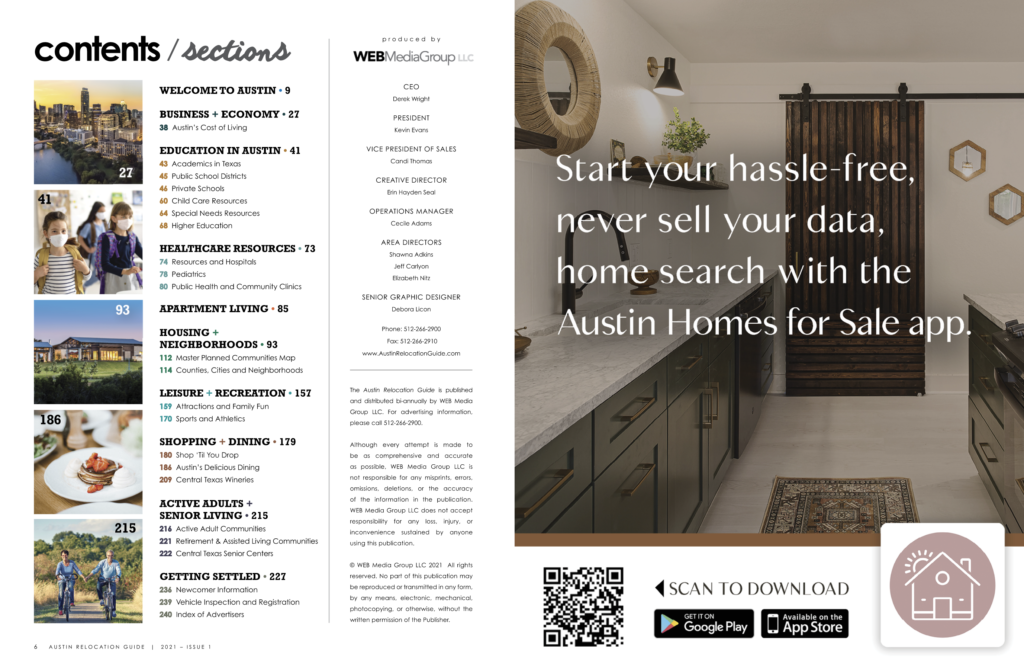 #2 Complete Back-End Analytics
Ok, you have this awesome app and all of your clients are loving it, you're getting new leads left and right. Now what? Agents Insights provides you not only all the analytics you need to have a deeper understanding of your users search behaviors but the ability to help you convert those leads too!
Ever heard of trigger marketing? Why email, call or send mail to everyone when you can focus on the prospects that are actually taking action and are showing behaviors that indicate they're in the market to buy or sell. Clients do their homework for about 90-120 days before they actually pick up the phone and call an agent. So, that grocery store shopping cart ad that baby's butts are sitting on all day…might not be your best bet for ad space.
Our apps provide you with the consumer's:
name
verified phone number
email
analytics of app usage
Analytics include:
homes viewed
homes favorited
homes shared
notes on each home
and much more!
#3 Optimal Search Function
Where are you sending your clients to search? To your IDX feed on your website or brokers website? Have you seen how those perform on a mobile device? Yuck! This GPS-enabled map gives them the ability to pull up their current location and start searching immediately (no annoying tabs to find or zooming in and out).
HomeStack has a direct feed to the MLS that updates to the minute with our proprietary technology. And not only is it the fastest, it's totally accurate because it's direct from the MLS! (Eat your heart out Zillow). Your app not only lets clients search homes for sale but they can filter open houses only, search sold listings, backup or pending and even rentals! They will never have to go to an unreliable source again.
#4 Only Point of Contact
You're only one touch away from being contacted through the app via call, text or email. And better yet, you and only you, are the only point of contact on every single listing. Drops Mic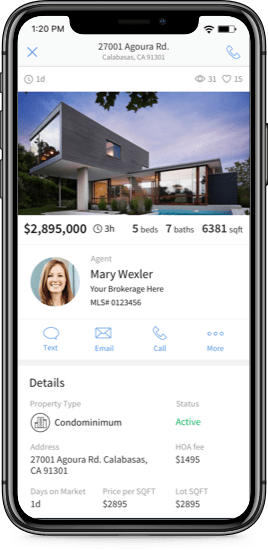 #5 Modern Look & Feel To Your Branding
Ready for a facelift for your branding? Look no further. I cannot tell you how many testimonials we get from our clients saying that they've seen an increase in conversions with their millennial-aged clientele. They'll be making up 68% of first time home buyers this year, let us help you get your piece of the pie! By leveraging a much more modern and enticing call to action along with sleek, simple graphics they'll be lining up to buy from you!
Giving you ideas on how to market your app is something we pride ourselves on helping with. HomeStack provides training when your app goes live so that you're ready to add this to all of your marketing.
Earlier I mentioned that having an app means you're business partners with Apple and Google, well it also means you can use their badges on all of your marketing pieces as well. Here's an example: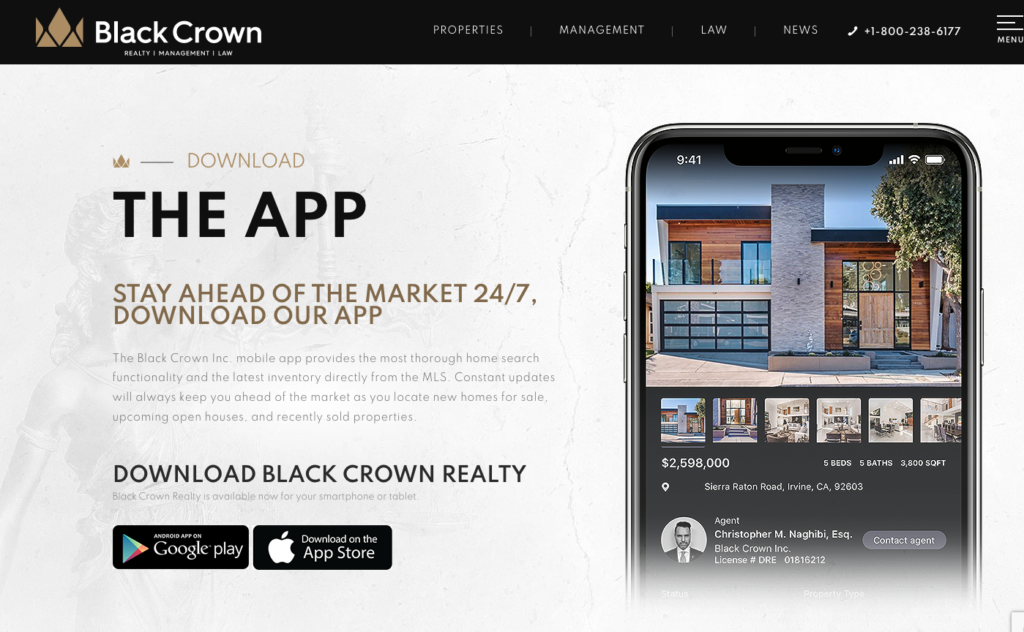 Now you're probably asking…is investing money into your website a waste?#
Well, it depends. Are you creating digital marketing campaigns to drive traffic to your site or paying a lead gen company to do it for you? If you're using a product like BoomTown or have campaigns with Google AdWords, then keeping your site optimized for desktop and mobile makes sense. After all, what's the point in spending all of those advertising dollars to send prospects to a site that isn't likely to result in the completion of one of your call to actions, right? Right.
Most of the agents that are successful with those types of advertising campaigns will still choose to have their own app in addition to their website. You may capture your clients on your site but they won't keep coming back to it. 91% of home buyers are searching for homes on mobile devices and it's not going to be on a realtor website. It's going to be on the Zillow, Trulia, Redfin or Realtor.com app. They are much more likely to search for homes on a mobile app which has a superior user experience and convenience for being on the go.
Looking to the future most agents will use their website for online credibility but will focus on giving their app out to clients and using the app to capture new clients. For example, Tim Smith's website doesn't even offer you the option to search via IDX, it sends you right to "download our app". Wall Street Journal and REAL Trends, Inc. have ranked The Smith Group as the #16 team in the Nation, by sales volume. You know, no big deal.
What are you waiting for?
Less than 1% of real estate agents have their own mobile apps. This number is going to grow rapidly and decrease the options for the names that are available in the app store. If you'd like to learn more or get your app started today, we'd love to hear from you!
Posted by HomeStack on October 13, 2018